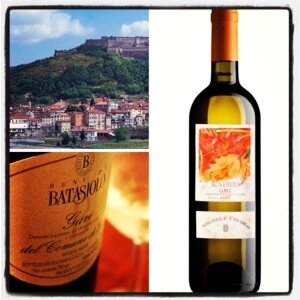 Gavi is a distinguished white wine produced in the Piedmont section of northern Italy. The wine is named for the town at the heart of the region. But now for a little story time (perhaps while you sip a glass of this fruity and honeyed, dry wine):
Once upon a time, around the 5th century, there was a beautiful, fair princessa named Gavia. She was the daughter of Clodimir, King of the Franks (son of Clovis I). Long before anyone knew what Stockholm Syndrome was, she fell in love with one of her guards, and he asked for her hand in marriage. When they asked Clodimir's permission, he forbade the marriage, saying it was beneath her class to marry him. But they were hopelessly in love, so they went to whatever the French Medieval equivalent of Vegas was, and, because this is a fairy tale after all, were able to cross the Alps and settle in a remote location in a tiny village on the fringes of the kingdom, in what is now Italy.
They eluded the king's troops for a long time. But one night, Gavia's new husband, under the influence of this local nectar, let it slip who they were to an innkeeper. But the king meanwhile, had been told to forgive his daughter, and once they were reunited, he couldn't help but gaze into her eyes, brim with adoration and give his blessing to the union. As a wedding present, he bestowed the happy couple the whole town.
He named it, and the delicious wine that brought them back together, Gavi. And they lived happily ever after, even as raging alcoholics.
Whether or not the legend, or facets of it, are true, this is a wine that has been produced in the region for many centuries. It is made exclusively from the Cortese grape, hence why it is also sometimes referred to as Cortese di Gavi. It became a DOC in 1974, and was elevated to DOCG classification in 1998. The wine must be produced in the province of Allesandria, adjacent to Liguria, and is restricted to the following communes: Bosio, Capriata d'Orba, Carrosio, Francavilla Bisio, Gavi, Novi Ligure, Parodi Ligure, Pasturana, San Cristoforo, Serravalle Scrivia, Tassarolo. When one sees Gavi di Gavi on a label, this means it's Gavi produced from within the Gavi commune.Besides various styles of production from light, dry and fruity to fuller body with oak aging, Gavi is also produced as a spumante.
This was written by Amanda Schuster
Read more: http://www.snooth.com/region/italy/piemonte/gavi/#ixzz2jqrYVNqQ