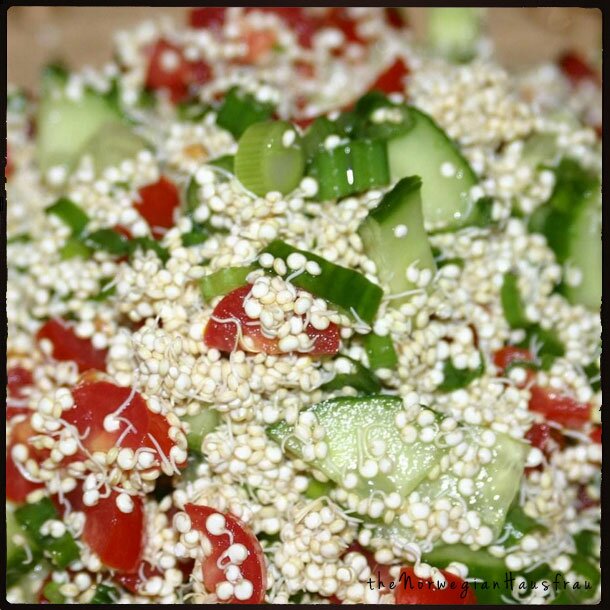 Quinoa is a wonderful grain related to beetroot, spinach and tumbleweeds. It`s high in protein and lacks gluten. 2013 was the international year of Quinoa, about 4000 years after it was first discovered in South-America.
I believe I`ve said it a few times before and will probably keep saying it: try quinoa! If you haven`t tried it yet, then try it in this recipe.
Quinoa is easy to make, inexpencive, you can dress it however you like and it goes with everything.
I made this salad today to bring to a picnic as a side dish for a bunch of people and the eye measurement I used was a sort of 1/3 of each ingredient. You adjust this howerver you prefer.
WHAT YOU NEED
* Precooked quinoa (I always add vegetable broth to the water)
* Cherry tomatoes, cut in fours
* Cucumber, cut in smaller pieces (wheels and then in six)
* Spring onion, cut finely
Dressing:
* one part white whine vinagar
* two parts good olive oil
* half a part mustard (less if you use really strong mustard)
* a small teaspoon each of sugar, salt and black pepper.
* finely chopped garlic
* a shake of curry powder, cayenne pepper and paprika
WHAT YOU DO
In a serving bowl mix all the ingredients for the dressing. Start with the vinagar, then the oil and so on.
Stir well and remember to taste before adding the chopped salad ingredients. If the dressing is to sour or spicy add sugar.
Now add quinoa, tomatoes, cucumber and onion. Mix well to make sure that the dressing is evenly spread.
Serve and enjoy!