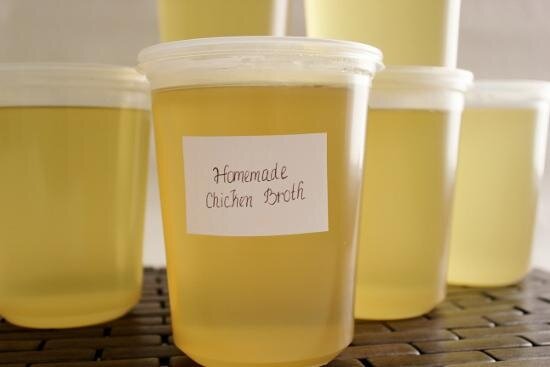 Broth is a must have in my kitchen. I use it in almost everything I cook and by making it myself I know it contains all natural ingeredients.
Learn how to make your own and you`ll always have plenty on hand for your soups and sauces.
Store in fridge or freezer.
VEGETABLE BROTH
* 2 yellow onions, sliced
* 3 carrots, peeled and sliced
* 2 stalks celery, sliced
* 3 cloves garlic, halved
* 1 potato, cut into 1-inch chunks
* 3 bay leaves
* 2 teaspoons whole black peppercorns
* 4 sprigs parsley
Place all ingredients and 3.5 liter water in a large pot.
Bring to a boil over high heat. Reduce to a simmer and cook 2 hours, then strain and discard solids.
Strain once more through a fine mesh sieve. Cool and refrigerate for up to 3 days and freeze for 3 months.
Stir before using if broth separates.
CHICKEN BROTH
* 2 kg chicken carcasses, legs or wings chopped
* 1 garlic, unpeeled and bashed
* 5 sticks celery, chopped
* 2 leeks, chopped
* 2 onions, chopped
* 2 carrots, chopped
* 3 bay leaves
* 2 sprigs of fresh rosemary
* 5 sprigs of fresh parsley
* 5 sprigs of fresh thyme
* 5 whole black peppercorns
* 6 litres cold water
Place the chicken, vegetables, herbs and peppercorns in a deep pan. Pour over the water and bring to a boil.
Skim and then bring it down to a simmer.
Let it simmer for abbout 3 hours. Skim when necessary.
Now pass the broth through a fine sieve and let it cool down.
When cooled off the broth should look clear and amber in colour.
Place in smaller containers or plastic bags to freeze.
It will keep in the freezer for 3 months and in the fridge for 4 days.
FISH STOCK
* 2 pounds meaty halibut, cod, or sea bass bones
* 1 large onion, thinly sliced
* 1 large leek, white and pale-green parts only, thinly sliced
* 1 bay leaf
* 1 sprig flat-leaf parsley
* 1 sprig thyme
* 3 whole peppercorns
* Water
Rinse fish bones well with cold water. Place bones in a large pot; add remaining ingredients and 10 cups cold water.
Bring almost to a boil over high heat (do not let it come to a boil).
Reduce heat to low and cook at a bare simmer, skimming any foam that rises to surface.
Simmer for 20–30 minutes. If you cook it or let it simmer for longer than 30 minutes it might go bitter.
Strain stock through a fine sieve.
Stock tastes best when freshly made.
In an airtight container the stock will keep for two months in the freezer.
Image source: olgasflavourfactory