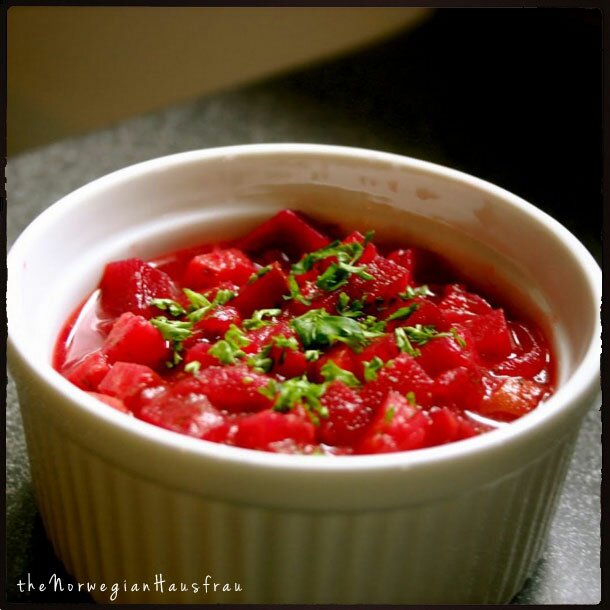 This recipe serves .
Borscht is a soup of Ukranian origin. It`s a popular dish in many Eastern and Central European countries. The two main variants of borscht are generally referred to as hot and cold. Both are based on beets, but are otherwise prepared and served differently. You can also find a green version where the meat is taken out and spinnach replaces the cabbage. This recipe is for an authentic Ukranian hot borscht.
WHAT YOU NEED
* 275 g pork sausage
*1 medium beet, peeled and shredded
*1 carrot, peeled and shredded
*385 g baking potatoes, peeled and cubed
*9 ml vegetable oil
*65 g onion, chopped
*170 g tomato paste
*105 ml water
*1/ medium head cabbage, cored and shredded
*225 g diced tomatoes, drained
*1 clove garlic, minced
*salt and pepper to taste
*3 g white sugar, or to taste
*70 g sour cream, for topping
*2 g chopped fresh parsley for garnish
WHAT YOU DO
Crumble the sausage into a skillet over medium-high heat. Cook and stir until no longer pink. Remove from the heat and set aside. Fill a large pot halfway with water(about 2 quarts), and bring to a boil. Add the sausage, and cover the pot. Return to a boil. Add the beets, and cook until they have lost their color. Add the carrot and potatoes, and cook until tender, about 15 minutes. Add the cabbage, and the can of diced tomatoes. Heat the oil in a skillet over medium heat. Add the onion, and cook until tender. Stir in the tomato paste and water until well blended. Transfer to the pot. Add the raw garlic to the soup, cover and turn off the heat. Let stand for minutes. Taste and season with salt, pepper and sugar. Laddle into serving bowls, and garnish with sour cream and fresh parsley.
ENJOY!