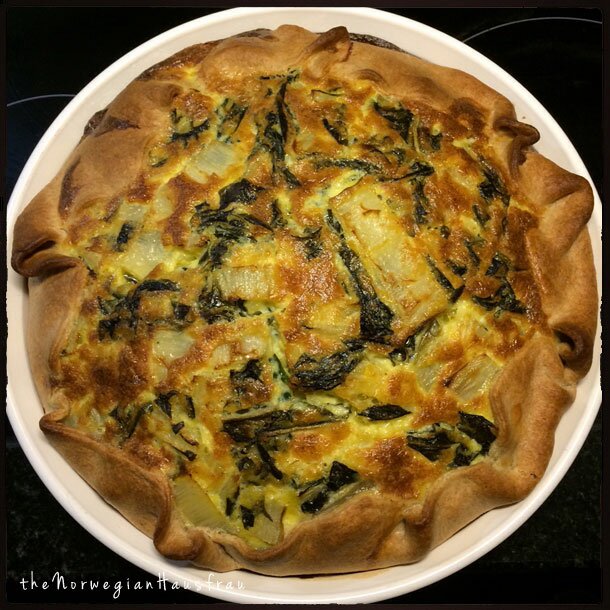 I love this seasons vegetables and fruits: apples, blackberries, broccoli, cauliflower, pumpkin, parsnip and of course swiss chard.
Chard comes in various colors and is considered to be one of the most healthful vegetables available.
Usually I do a swiss chard gratin with potatoes and lot`s of cheese – great stuff.
But this evening I went with what I had and that turned into a swiss chard pie on whole wheat dough. Lovely and a bit leaner.
Tip: Migros has a good ready made whole wheat dough.
This serves about 4.
WHAT YOU NEED
* 1 ready made whole wheat dough
* 4 stalks of Swiss chard
* 1 onion
* 1 clove of garlic
* Olive oil
* Lemon juice, freshly pressed from 1 small lemon
* 3 eggs
* 200ml cream
* 100ml vegetable broth, make it a little strong tasting
* Maldon salt, or other flaky salt
* Black Pepper
WHAT YOU DO
Prepare a baking pan with the rolled out dough.
Set the oven on 180 C convection.
Chop the onion and garlic finely and place in a heated sauté pan with a sprinkle of olive oil. Let the onions get transparent while stirring but not burnt.
Fill the bottom of the pan with one cup of water.
Cut and throw away the brown ends of the Swiss chard. Then start slicing the white part of the chard into thin-ish strips and add to the sauté pan. When you come to the green, leafy part of the chard, I find it easiest to roll the leaf and then cut it. Add it all to the pan and let it get soft. Make sure there is enough fluid in the pan to keep the chard from burning. If needed add more water. Usually this is not necessary because the chard itself contains so much water.
Let it simmer for about five to ten minutes.
Remove the pan from the heat.
Slice the lemon into two halves and press out the juice. Pour the juice over the chard and mix it all well.
In a small bowl crack the eggs and add the cream and vegetable broth. Whisk it all well.
Little by little pour in the egg mix to the pan all the while stirring.
Mix everything in the pan well together.
Season with salt and pepper according to your liking.
Now you add the filling to the baking pan with the dough.
Fold the dough inwards keeping the filling from spilling out.
And because it looks nice when ready baked.
Place in preheated oven for about 30 minutes.
Serve with a green salat and mustard dressing.
Enjoy!