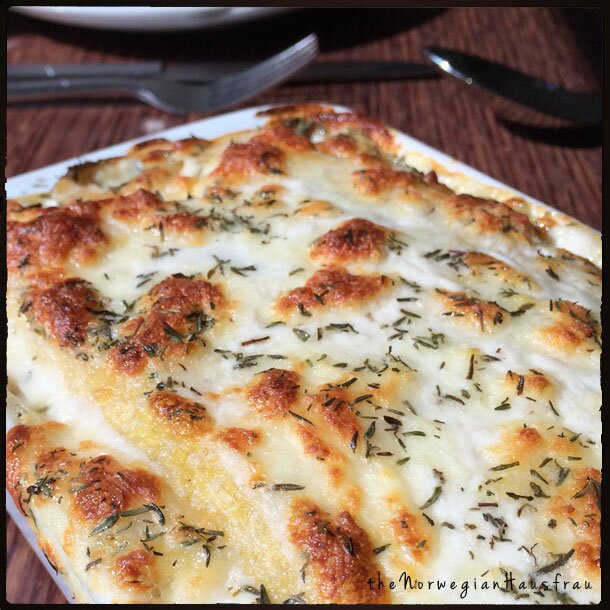 This lasagne was intentially going to include fish (white fish that is), but as my morning became more busy than expected, I opted for a veggie lasagna.
The girls at my lunch table wrinkled their nose in non-approvement of my dish, but ended up finishing their plates. So it can`t have been all that bad. When in a hurry, you might need to try something new.
WHAT YOU NEED
* 400 ml béchamel sauce
* Thyme
* Salt & Pepper
* 2 garlic cloves, minced
* 300 g green peas, canned, frozen or fresh
* 400 g pre-cooked butternut pumpkin
* 1 yellow onion, chopped
* 2 cups (8 oz.) shredded mozzarella cheese
* 1/2 cup freshly grated parmesan cheese
* 1 package of Cantadou or other fresh cheese with herbes
* 1 (8-oz.) package no-boil or pre-boiled lasagna noodles
WHAT YOU DO
Preheat oven to 200ºC (See convertion table here).
If you have chosen frozen green peas they need to thaw before using.
In an oven pan you place one layer of pre-boiled lasagne noodle plate, add enough béchamel sauce to thinly cover the pasta plate, then pour all the green peas on top of that.
In the peas, stick small pieces of Cantadou and add the finely chopped onion and garlic.
Then add a new layer of pasta and a new thin layer of béchamel sauce. This time you also sprinkle thyme over the sauce.
Then comes all of the pumpkin, more Cantadou cheese and then sprinkle salt over it all.
Add a new layer of pasta followed by a new thin layer of béchamel sauce and top it all off with Mozzarella and Parmesan cheese. For the extra touch you may sprinkle a handful of thyme over the topped cheese.
Bake in the oven for about 30 minutes or untill the cheese gets golden to dark.
So easy, so tasty.
Serve with a green salad and or garlic bread.