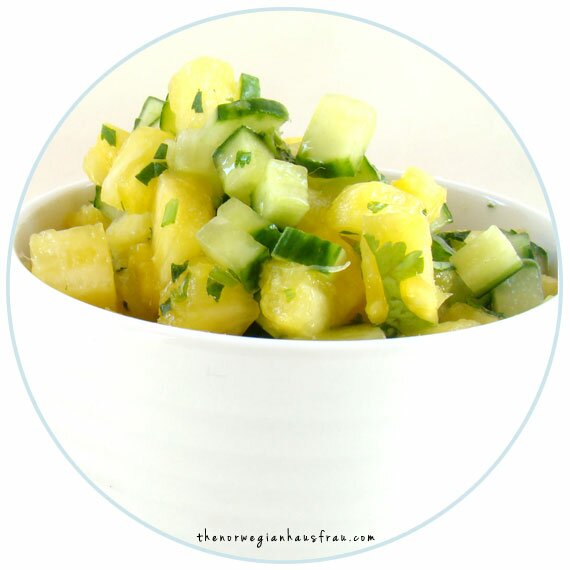 At the moment I`m on a diet where I (among other things) do not eat tomato, so when the kids were calling for mexican food the other day I decided to swap the tomato with pineapple for the salsa.
This is really fresh and gives a good balance to the heavy and spicy meat sauce.
A salsa can also be perfect as a snack with for example with tortilla chips.
As for nutrition, raw pineapple is an excellent source of manganese and c-vitamin. Raw pineapple juice may be used as a meat marinade and tenderizer.
In the Philippines the pineapple's leaves are used as the source of a textile fiber called piña, and is employed as a component of wall paper and furnishings, amongst other uses.
Let`s get back to the salsa before I wander off even more here.

What you need:
* 1 ripe pineapple
* 1 cucumber
* 1 scallion
* A hand full freshly chopped koriander
* 1 tbs green piemento sauce
* Zest and juice from 2 limes
* 2 dl (7 oz) olive oil
* Salt & Pepper
What you do:
Cut the pineapple in small cubes. Have it in a bowl with chopped scallion, the small cut pepper bell and all the other ingredients. Mix well. Pour the olive oil over it all and add the lime zest and juice. Add salt and pepper as you like and mix again before serving.
I would say this salsa goes well also with grilled chicken and fish.
Got to try that soon!
(Image source: thehungerstruck.com – Thank you!)