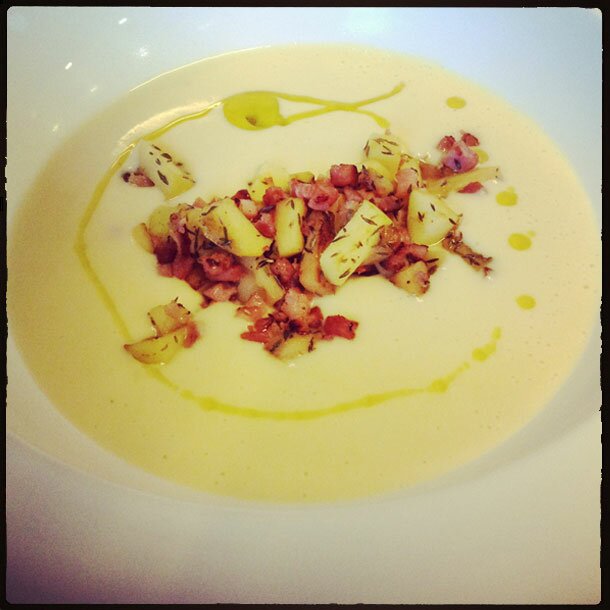 Cuisine:
Creamy Celery Soup
Author:
Prep time:
Cook time:
Total time:
Just delicious! This is one of my favorite soups both to make and to eat. Skip the bacon to get a lovely vegetarian dish.
Ingredients
* 500 g celeriac, cut in small cubes
* 2 small potatoes
* 2 shallots
* 2 scallions
* 2 tbs butter
* 6 dl vegetable broth
* 2 dl white wine
* 4 dl milk
* Salt
* Cayenne pepper
GREMOLATA
* 200 g bacon, cubes
* 2 apples, cubes
* 1/2 stalk celery, thinly sliced
* Fresh Thyme
* Extra Virgin Oliveoil, to sprinkle
Instructions
Start the broth.
Peel and cut the celeriac and potatoes in evenly pieces.
Cut the shallots and scallions.
Place onions in a pan with the butter, celeriac and potatoes.
Quickly fry the vegetables on high heat while stirring.
Lower the temperature.
Add the broth and white wine and let it simmer for 15
minutes.
Purée in a blender or with a mixer.
Rinse out the pan and pour the puréed mix in.
Add the milk and let it simmer till it get`s the desired
consistency. If it gets too thick add a little water.
Add salt and cayenne, to taste.
While the soup is simmering prepare the gremolata.
Crispy roast the bacon in a frying pan.
Towards the end add the apples, pinch of thyme and
celery.
Let it simmer for about two minutes.
Set aside.
Plate the soup in bowls and topp with bacon + apple
gremolata.
Make a circle with extra virgin oliveoil and sprinle over
some thyme.