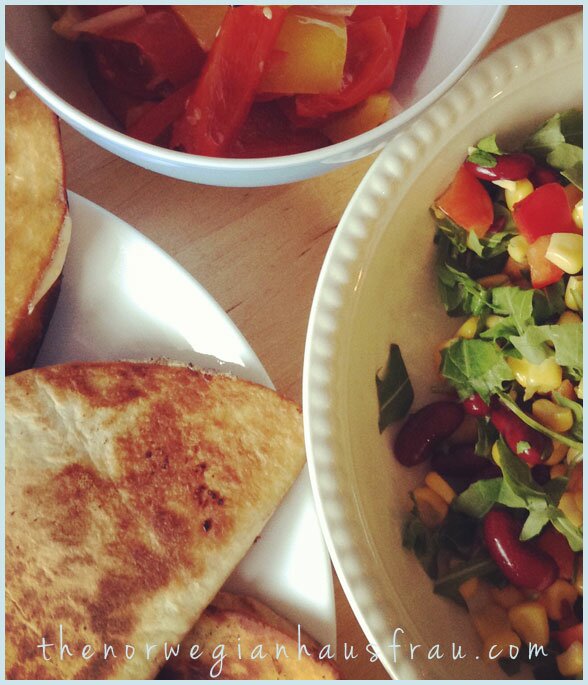 I`m Norwegian and didn`t know much about Mexican cooking until I moved to Switzerland. Sounds funny? Well, maybe not if you knew that the upstairs neighbor in my new Swiss house turned out to be from…Mexico.
She soon became my first good friend in my new country, but she complained about how the guacamole here was no good and thankfully brought her home made to our daughters garden parties. She invited us to her daughters birthdays parties where we unsuccessfully tried hitting the piñata.
Sadly for me she moved away with her family, but I think that one day soon I`ll invite her over for Quesadillas or maybe I should make her bring her own in case she starts complaining about how I made them wrong.

If you wish to read more about the funny but true 8 common mistakes on cooking quesadillas please click here – 8 Common Quesadillas Cooking Mistakes
Anyways, here is my latest attempt at Quesadillas served with a mex salad.
This serves 4.
What you need:
* 4 wheat tortillas
* Cheddar cheese, grated and as much as you like.
* Nut oil
Mex Salad
* 1 pre boiled corn on the cob, corn sliced of the cob
* 1 red bell pepper cut into cubes
* 1 yellow onion, chopped finely
* Arugula salad
* 1 cup of Kidney beans, cooked and rinsed
Salad Sauce
(start with small amounts of each and add more to taste – remember that is you over-salt it`s difficult to find the balance again and you might need to start over.)
* Olive Oil
* Lemon Juice
* Salt
* Sugar
* Black Pepper or Hot Red Pepper Flakes
* Mustard, optional
What you do:
These Quesadillas only have a cheese filling but yo can add more of what ever you wish (spinach, potatoes, chicken and so on) and what ever goes with the sides you`re serving.
Heat up a pan to medium heat with a little oil. Place one tortilla flat in the pan. sprinkle grated cheese over half of the tortilla. Flip one half of the tortilla over the filling. Let the cheese start to melt and the flip the half mooned tortilla over to cook evenly.
You should only have two tortillas in the pan at once.
In a salad bowl start mixing your salad sauce.
I would start with the acid; it makes the sauce look smoother.
Try 1 tablespoon lemon juice, 2 tablespoons oil, 1 small teaspoon salt, 1 small teaspoon sugar, 1 small teaspoon mustard and a sprinkle of pepper.
Give it a stir, then taste and add more of the ingredients to balance it out.
Add all the salad ingredients to the bowl and toss it right before serving.
If you toss it too early the salad will get soggy.
In the picture at the top you will see that I also served a single paprika salad with sesame seeds, sprinkle of salt, nut oil and white whine vinegar.
Serve while quesadillas are still warm.